"A Must Have For All Levels
of Digital Photographers"
"123di is hugely comprehensive and covers almost every detail of digital cameras and digital imaging. I wholeheartedly recommend it.

I'm a firm believer that 'The 123 of digital imaging' is a must have for all levels of digital photographers and that you only need to download the demo to realize that its true value goes way beyond the asking price."

Phil Askey
Founder of dpreview.com
"Extremely Impressed by
the Level of Detail"
"I have to say that overall I was extremely impressed by the level of detail that you cover not only explaining Adobe's features but also the more general, underlying concepts and technologies that photographers need to comprehend."

Julieanne Kost
Senior Digital Imaging Evangelist
Adobe Systems, Inc.
"Amazing Illustrations,
Animations, and Images"
"Amazing illustrations, animations, and images are all beautifully integrated for ease of learning and searching for later when you need reinforcement. The navigation is superb. Everything is organized, linked, indexed, and easy to move through or jump around in."

Clay White
Commercial Photographer, Consultant
Photoshop Instructor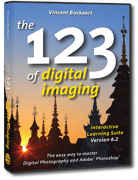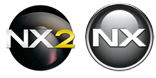 A highly visual and interactive guide containing over 5,000 screen-sized pages and thousands of graphics and animations.
Master the right camera settings and composition techniques to capture stunning images.
Learn Adobe® Photoshop® through step-by-step animated tutorials.
Easy to understand, clear and concise, comprehensive and accurate.
3 selectable learning levels:
—"Starter" sections for beginners
—"Essential" sections for enthusiasts
—"Advanced" sections for professionals

Capture NX2 / NX user?
The 123 of digital imaging for Nikon edition contains additional coverage on Capture NX 2.2, Capture NX 1.4, Nikon Capture 4.4, and Nikon Scan.

Download the FREE EF Lens Simulator app which features detailed lens specifications of all Canon DSLR lenses, including unique interactive simulators. EF Lens Simulator is a free Canon Singapore App published by 123di and authored by Vincent Bockaert.
Available in Indonesian, Malay, Thai, Vietnamese, and English in these countries - Indonesia, Malaysia, Thailand, Vietnam, Nepal, India, Sri Lanka, Bangladesh, Pakistan, Myanmar, Brunei, Cambodia.